Your images printed directly on Brushed Aluminum Dibond 3 mm to 200 x 300 cm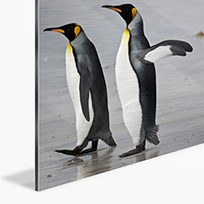 High Quality Printing
Greenguard Ecological UV Inks
Dibond plate 3 mm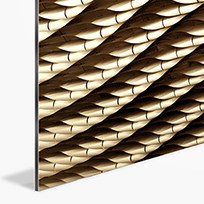 Flat Dibond Plate
Brushed Aluminium
Metal aspect
Silver or gold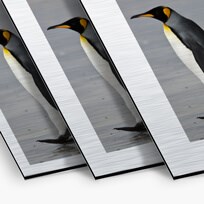 White Edges Addition
Online Configurable
Up to 12 cm wide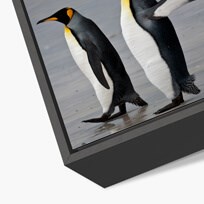 Floater Frames
In Wood and Aluminum
Different colors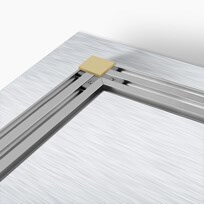 Professional Suspension
Authentic aluminum profiles
Increased longevity
Without reflections thanks to Greenguard Gold matt ecological inks

The latest machines are used to print directly onto Alu-Dibond by means of 6-channel color inks that produce a photographic quality. The ecological inks, Greenguard Gold Certified, are cured with UV LED light and have a matt appearance.
Because of the curing, the inks are scratch-, moisture- and weather-resistant.
Brushed Aluminum Dibond consists of two raw aluminium layers between which there is a plastic core. This keeps an Dibond extremely flat.
Brushed Aluminum Dibond has a silvery effect with structured stripes, which is especially noticeable in the unprinted sections.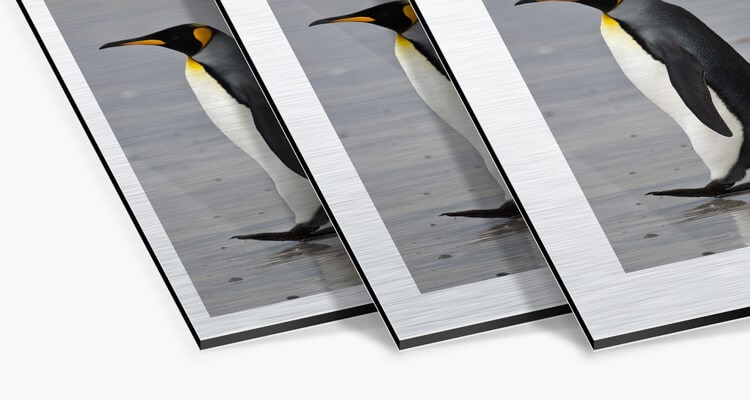 You can add edges to your image during the Online ordering process.
The edge will be added to your image size. Nothing will be cut away from your original image.
By adding a border, your print can also be framed with a "passe-partout" without cutting off details of the image. It can be used in combination with a floater frame.

You can opt for an unprinted edge that will reveal the metallic effect of brushed aluminum.
Interesting from an artistic point of view.

You can choose from the following widths: 1, 2, 3, 5, 8, 10 and 12 cm.
Please note that adding edges cannot exceed the maximum print size.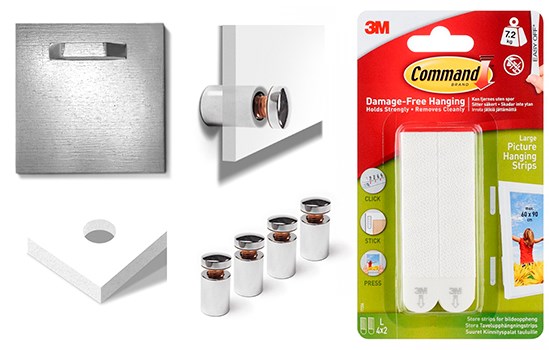 Our different suspension systems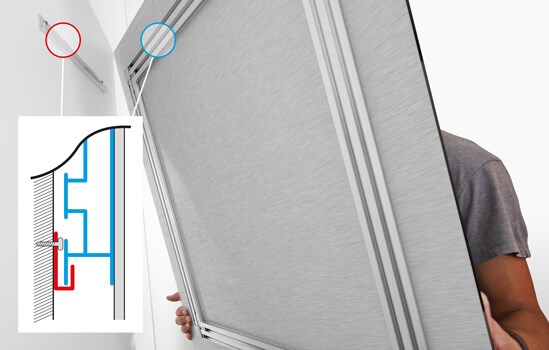 Aluminum Suspension System 10/45 with wall batten (in red)
UV printed Dibond are ideal as a Decorative Element

UV printed Dibond images are cured with UV LED light, making the images scratch-, moisture- and weather-resistant. Ideal for outdoor use.
UV printed Dibond images can be used without problems in damp rooms such as bathrooms. The images themselves can be washed with soapy water.
Large choice of Floater Frames for your UV printed Brushed Aluminum Dibond
Our Fino Art-Box in Aluminium with an extra fine front of 1.2 mm.
Available in 3 different thicknesses: 12 mm, 25 mm and 50 mm.
Each in 4 colors: Aluminium Silver Anodised, White matt (RAL 9016), Black matt (RAL 9005) and Anthracite matt (RAL 7016).
All suitable to contain images in ChromaLuxe, Dibond and Diasec.
Our Wooden Floater Frames with different front widths:
Fino Art-Box: 4 x 30 mm, Biarritz: 15 x 30 mm,
Marbella: 30 x 30 mm, Knokke: 60 x 40 mm.
Each in four colors: Maple Natural, White matt (RAL 9016), Black matt (RAL 9005) and  Anthracite grey (RAL 7016)
All suitable to contain images in ChromaLuxe, Dibond and Diasec.
Any Shape Possible thanks to our Computer-controlled Milling Machine (CNC)

UV printed Dibond produced by AuthenticPhoto can be milled to the desired shape, thanks to a high-speed milling machine specially designed to cut Plexiglass, and completed by a suitable invisible suspension system.
Circles, ovals and all free shapes up to a maximum width of 160 x 250 cm.
Our technicians help you to trace the cutting shapes as close as possible to your image in order to guarantee a professional grip and finish.
During the Online Order you can have images milled into the following special shapes
Some examples of size comparisons
AuthenticPhoto is certified by Hahnemühle, Canson, Ilford, ChromaLuxe and Epson Digigraphie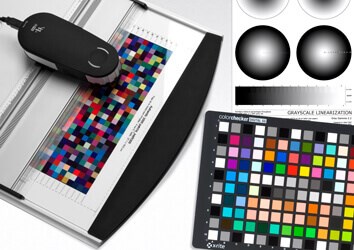 Testprints & Softproof
Testprint in A4 format (full image).
1:1 scale test (± 30 x 50 cm).
Softproof by email.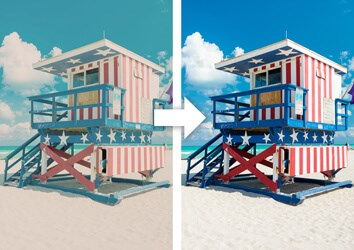 Optimization
Adaptation, retouching and correction of your image. Optimization of the image according to the chosen product.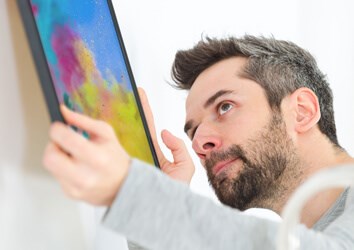 Placement
Organization of the hanging of your images after production and delivery.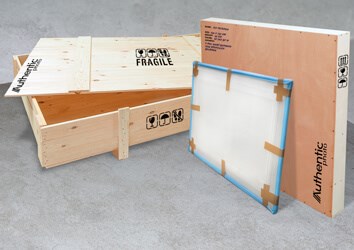 Shipping & Delivery
Custom packaging depending on the delivery method. The goods are guaranteed by AuthenticPhoto if we take care of the shipping.
Showroom
Rue Saint-Bernard 9
1060 Brussels — Belgium
Opening Hours
Monday-Thursday: 09-17h
Friday: 09-16h
Online: 24/7
Payment Methods