Diasec "A La Carte" Glossy - Satin - Matte
Fine-Art Pigmentary Print with Diasec
Processed behind Plexi
Color guarantee 200 years
40 x 30 cm : Starting from 119,00 € excl. VAT
Dimensions Between :


20 x 20 cm en 160 x 300 cm

Inclusive hanging system
Delivery : ca. 3-5 working days
To avoid counterfeiting, each Diasec produced at AuthenticPhoto receives an unique number on the back: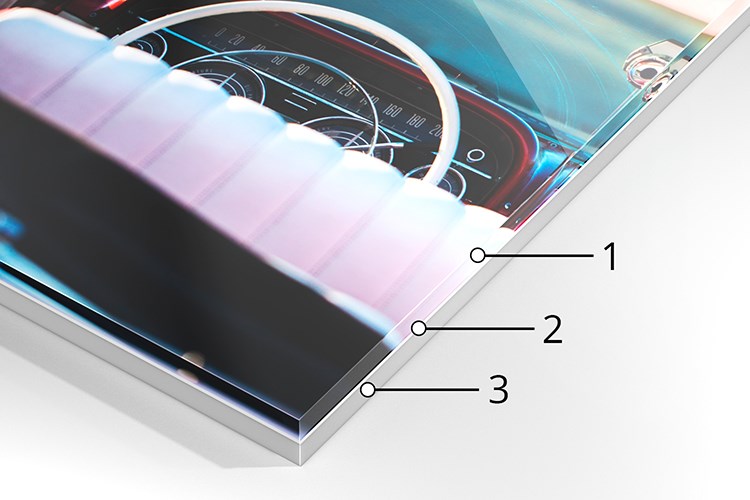 3 Plexi versions : Glossy / Satin / Matte


Paper :

Fine-Art Paper

with pigmentary print and 200 year color guarantee


Back : Plexi with Polished Borders / Black Plexi / Dibond
We produce the one and only Diasec: That is chemical bonding behind plexi, WITHOUT double-sided adhesive film and free of air bubbles and dust particles. Your image is printed in our photo lab on high-quality Fine-Art paper that has an ISO 9706 quality label and offers 200 years of color stability.
Our Fine-Art papers are not subject to discoloration under the influence of UV light. Diasec is ideal for artists who sell and exhibit their images.
Diasec protects the Fine-Art print against damage. Diasec can be cleaned and dusted.
Fine Art Diasec up to 160 x 300 cm.
Selection of Fine-Art Papers and 2 Special Papers: Pearlescent and Metallic.
All printed with color pigment inks with color guarantee
White Baryta :
Baryta Gloss
Paper Base
310g/m2
CIE Witheness 95%
> 200 Year Lightfastness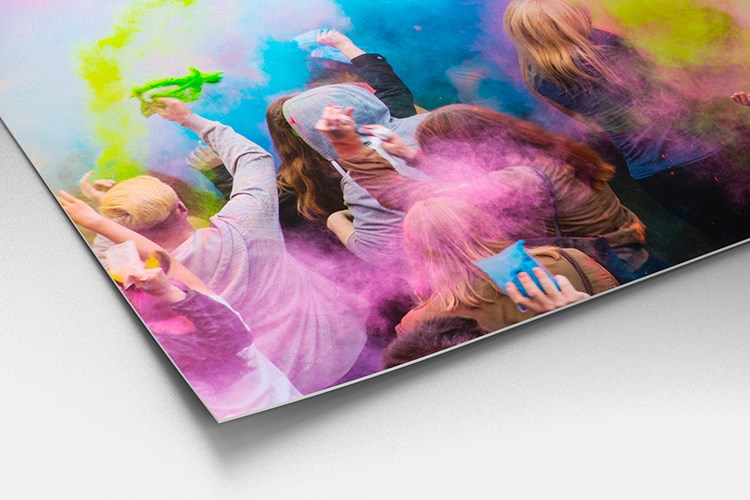 Hahnemühle Photo Rag Ultra Smooth :
Velvety
Cotton Base
305g/m2
CIE Whiteness 94%
> 200 Year Lightfastness
Canson Platine Fiber Rag:
Baryta
Cotton Base
310g/m2
CIE Whiteness 89,12%
> 200 Year Lightfastness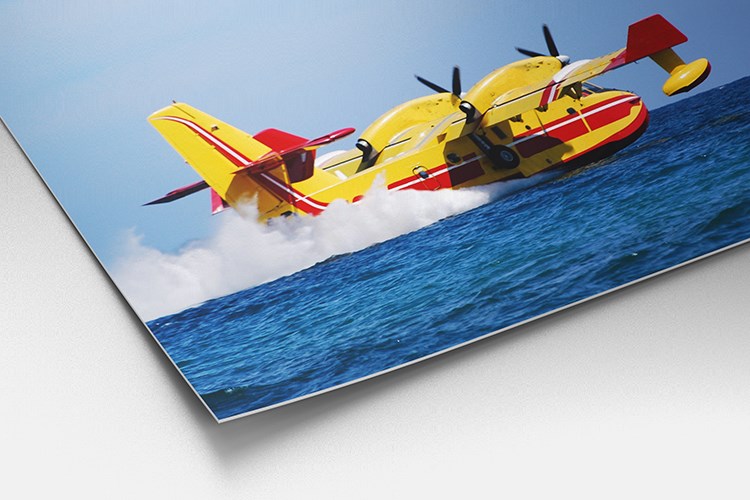 Canson Rag Photo :
Velvety
Cotton Base
310g/m2
CIE Whiteness 89,80%
> 200 Year Lightfastness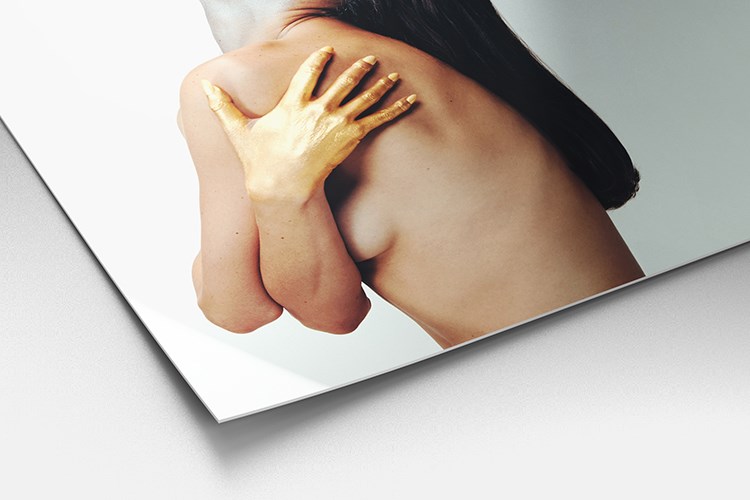 MOAB Pearl :
Pearl
Alpha Cellulose Base
260g/m2
CIE Whiteness 80%
Estimated 10-20 years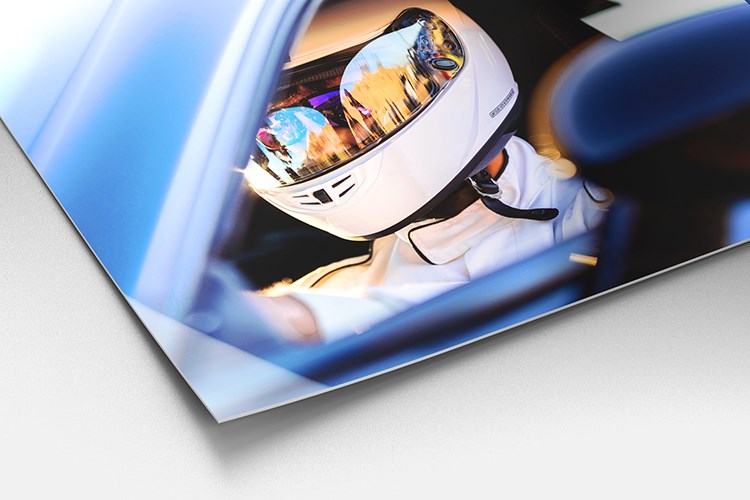 MOAB Silver :
Metallic
PET Base
300g/m2
CIE Whiteness 39%
Estimated 10-20 years
You can add White Borders of different widths during your Online Order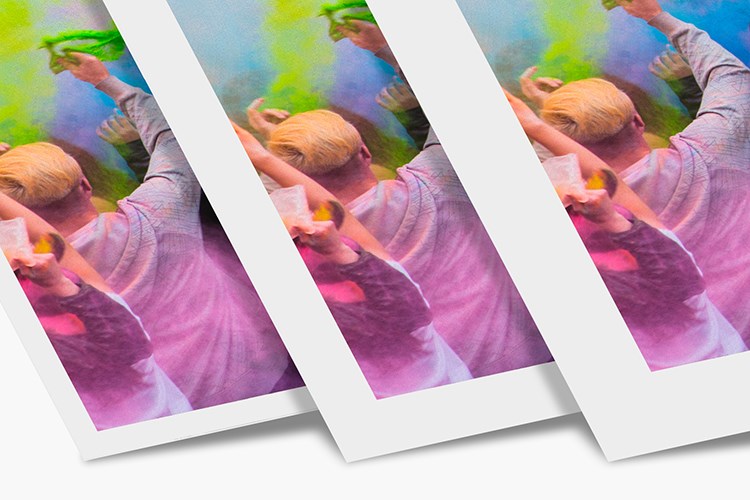 You can add a white border to your image during the Online order.
You can choose from the following widths: 2 - 3 - 5 - 8 - 10 - 12 and 15 cm.
The white border is added to your image. So nothing of your original image will be cropped.
White borders cannot be added over the maximum size. (max. 160 cm width)
3 Finishing options :
Plexi/Plexi and Plexi/Black Plexi (both with polished edges) - Plexi/Dibond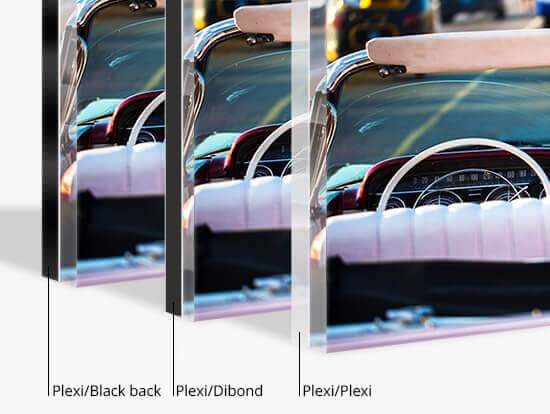 The Plexi/Plexi Glossy versions (front and back) are our most popular Diasec, certainly because of the free polishing of the sides. Glossy sides give a shiny glamour effect to your Diasec. With Plexi/Plexi you have the same tension on the front and back and this is an advantage for the flatness of your Diasec up to the four extreme corners.
The Plexi/Dibond Glossy versions are mainly used for presentation in Floater Frame frames.  
A Black Plexi at the back gives you the benefits of the free polished sides, but you also get the luxury aspect of the visual black border on the side, and a completely black back. This makes your Diasec an even better art product.
Delivered complete with adapted Hanging System - Ready to Hang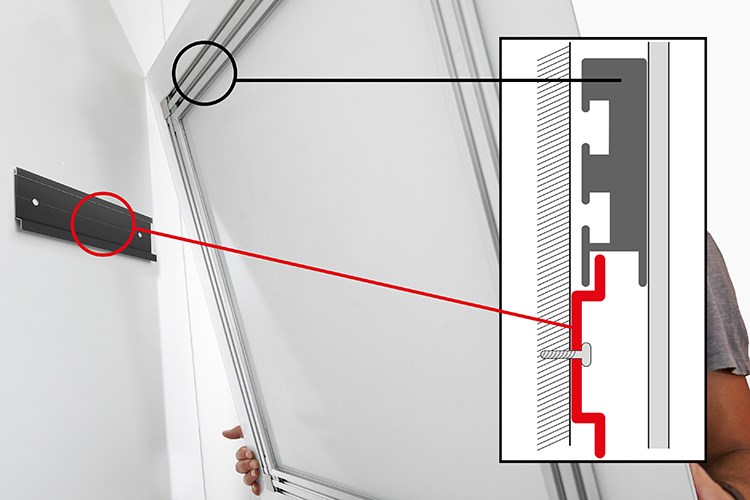 Aluminum Suspension System 10/45 with wall batten (in red)
Depending on the product, you can - during your order - choose between a Professional or a Simple Hanging System.
Depending on the dimensions and weight, the online system will propose the most obvious solutions:
Professional Hanging Systems :
Are the Hidden Aluminum Hanging Frames with reinforced corners, as shown here on the right.
Simple Hanging Systems :
Spacers - Hanging Hooks - Velcro Systems etc....

Large choice of Floater Frames in Aluminium and Wood for your Diasec "À La Carte"

Our Fino Art-Box in Aluminium with an extra fine front of 1.2 mm.
Available in 3 different thicknesses: 12 mm, 25 mm and 50 mm.
Each in 4 colors: Aluminium Silver Anodised, White matt (RAL 9016), Black matt (RAL 9005) and Anthracite matt (RAL 7016).
All suitable to contain images in ChromaLuxe, Dibond and Diasec.

Our Wooden Floater Frames with different front widths:
Fino Art-Box: 4 x 30 mm, Biarritz: 15 x 30 mm,
Marbella: 30 x 30 mm, Knokke: 60 x 40 mm.
Each in four colors: Maple Natural, White matt (RAL 9016), Black matt (RAL 9005) and  Anthracite grey (RAL 7016)
All suitable to contain images in ChromaLuxe, Dibond and Diasec.
During the Online Order you can have images milled into special shapes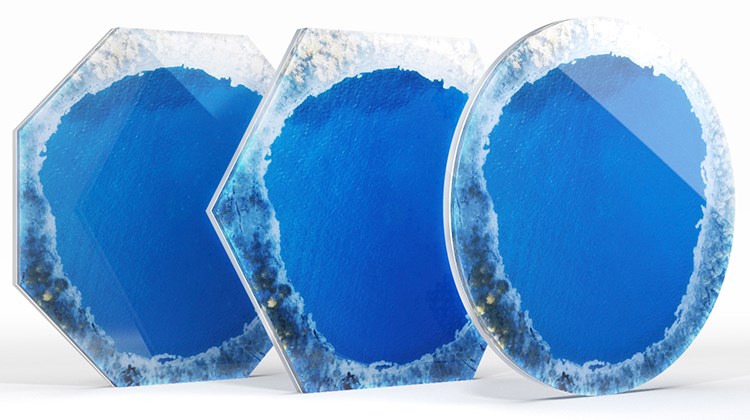 4 Standardized Special Shapes are Available Online :
Circle - Hexagon - Octagon - Dodecagon.
We can also produce any free shapes.
AuthenticPhoto is certified by Hahnemühle, Canson, Ilford, ChromaLuxe and Epson Digigraphie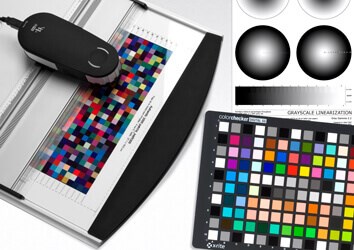 Testprints & Softproof
Testprint in A4 format (full image).
1:1 scale test (± 30 x 50 cm).
Softproof by email.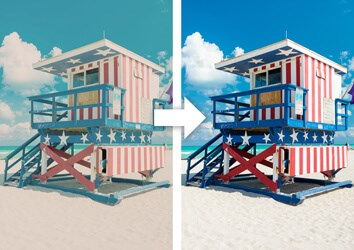 Optimization
Adaptation, retouching and correction of your image. Optimization of the image according to the chosen product.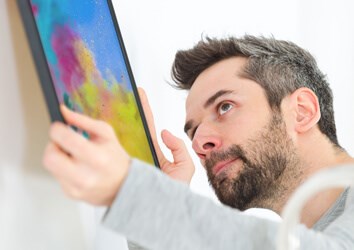 Placement
Organization of the hanging of your images after production and delivery.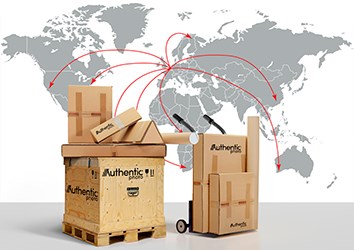 Shipping & Delivery
Custom packaging depending on the delivery method. The goods are guaranteed by AuthenticPhoto if we take care of the shipping.
Showroom
Rue Saint-Bernard 9
1060 Brussels — Belgium
Opening Hours
Monday-Thursday: 09-17h
Friday: 09-16h
Online: 24/7
Payment Methods