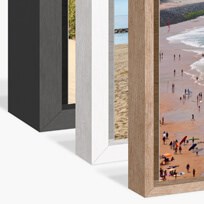 Large Choice
Different colors
and profiles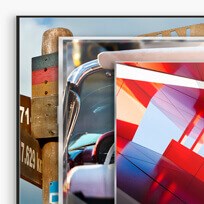 Several Supports
Diasec, Photo Dibond,
ChromaLuxe, UV printing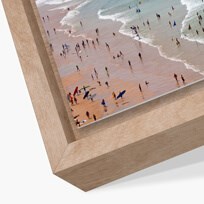 Attractive Finish
Image seems to float
Variable gap width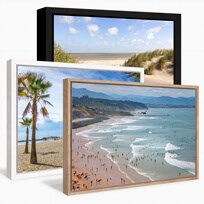 All Possible Dimensions
Square or rectangle
To the millimeter
Integrated Suspension
Pro wall batten included
Ready to hang
Wooden Floater Frames with Diasec, ChromaLuxe, Photo on Dibond or UV Direct printed Dibond

Our Wooden Floater Frames add a warm touch to your interior.
You have the choice between several colors and types of profiles, combinable according to your desires.
Our advisers can guide you in your choices if you wish.
You can define the width of the gap yourself (space between the image and the frame) online.
If you don't define it, the standard space of 2 to 3 mm will be chosen.
The wood of our floater frames is ecological, FSC certified (for each tree cut a new one is planted).

Black RAL 9005

Anthracite RAL 7016

White RAL 9016

Ayous Natural
You can choose from multiple Image Carriers that can be mounted in our Floater Frames

Choice of various image carriers
- Photo paper Color and Black & White mounted on Dibond 3 mm
- Fine Art Epson in Color and Black & White mounted on Dibond 3 mm
- Special Papers: Metallic Silver and Pearl, mounted on Dibond 3 mm
- Diasec "A la Carte" Plexi/Dibond 2+3 mm.
- ChromaLuxe
- Images printed directly on Dibond 3 mm
Overview Wooden Floater Frames
Image thickness
Gap depth
Gap width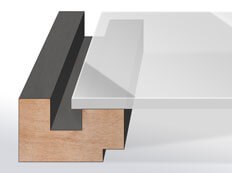 Biarritz
Black RAL 9005
Anthracite RAL 7016
White RAL 7016
Maple Natural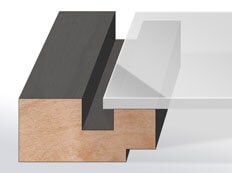 Marbella
Black RAL 9005
Anthracite RAL 7016
White RAL 7016
Maple Natural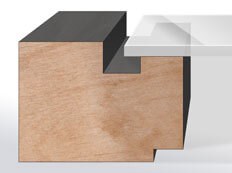 Knokke
Black RAL 9005
Anthracite RAL 7016
White RAL 7016
Maple Natural
All our Floater Frames have a Hanging System
Our Wooden Floater Frames have an intelligent hanging system at the back
It is fully integrated and is included in the price.
A piece of Dibond is screwed over the entire upper length. It is countersunk-screwed on three profiles of the frame so that the total weight is distributed over 75% of the frame.
The specially designed wall batten slides perfectly behind the screwed Dibond. The entire hanging system ensures that your Fino Art-Box hangs flat and parallel to the wall.

Because the wooden profiles of our Wooden Floater Frames consist of 1 solid piece of wood and are also milled in a special shape, our Wooden Floater Frames will remain rigid and straight.
Unpack and hang!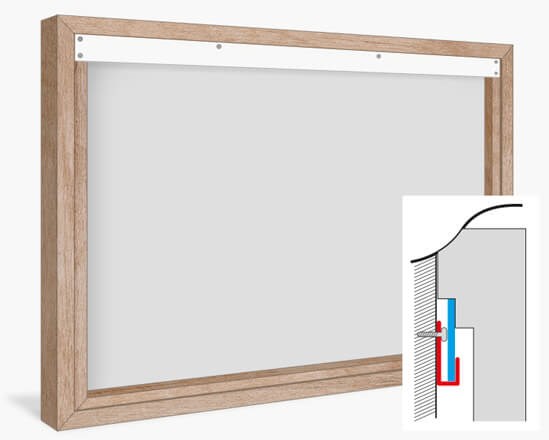 You determine the Frame Profile, the Dimensions, the width of the Gap and the Color

At Authentic Photo, you have the artistic freedom of choice to show off your photo product to its full advantage.
You can customise the unique composition of the image and Floater frame to suit your needs.
You determine the photo product, the frame profile, the color, the width of the Floater and the total dimensions.
All special dimensions are standard with us.

  Visualisation
Those images are interactive with 360° technology.
Click on the image and drag left or right, or scroll your mouse wheel to enjoy the 360° turn arround.
Biarritz 15 x 30 mm
Marbella 30 x30 mm
Knokke 40 x 60 mm
Some examples of size comparisons
AuthenticPhoto is certified by Hahnemühle, Canson, Ilford, ChromaLuxe and Epson Digigraphie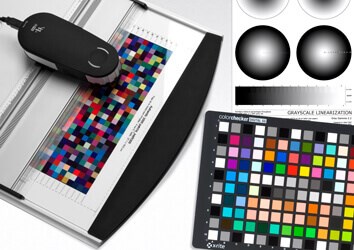 Testprints & Softproof
Testprint in A4 format (full image).
1:1 scale test (± 30 x 50 cm).
Softproof by email.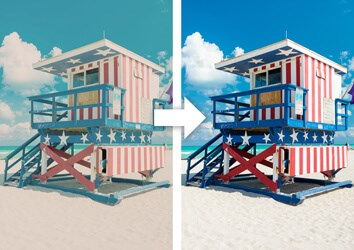 Optimization
Adaptation, retouching and correction of your image. Optimization of the image according to the chosen product.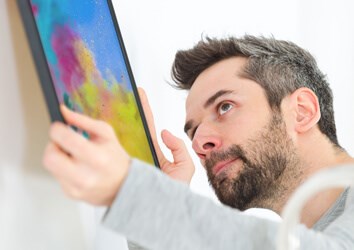 Placement
Organization of the hanging of your images after production and delivery.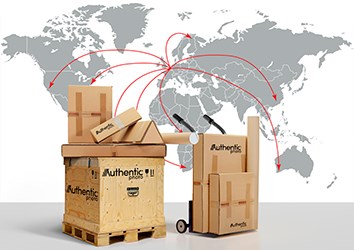 Shipping & Delivery
Custom packaging depending on the delivery method. The goods are guaranteed by AuthenticPhoto if we take care of the shipping.
Showroom
Rue Saint-Bernard 9
1060 Brussels — Belgium
Opening Hours
Monday-Thursday: 09-17h
Friday: 09-16h
Online: 24/7
Payment Methods