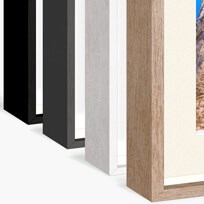 Elegant Frame
Black, White, Anthracite,
Natural
& Maple Natural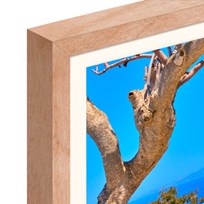 Frame Height
30 mm
Frame Width : 22 mm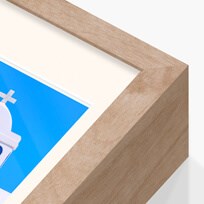 Image with White Borders
Anti-reflective Artglass
2 - 3 mm, UV resistance 70%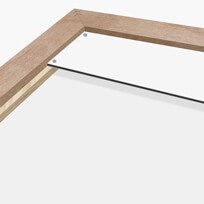 Integrated Suspension
Pro wall batten included
Ready to hang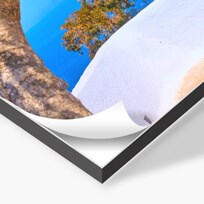 Fine-Art Paper on Dibond
Hahnemühle, Canson,
Ilford, Moab
Wooden Frame with Glass - Santorini, with Floating Photo under Passe-Partout

Details Wooden Frame with Glass Santorini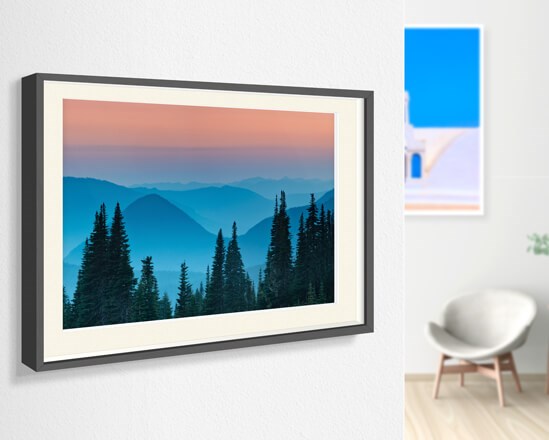 The Santorini showcase frame has a 22 mm Frame width and is available in frame heights 30 mm.
At the front of the image a Floating Passe-Partout is placed, the colour of which can be chosen online during your order.
The image has a white edge equal to the width of the Passe-Partout (4, 6, 9, 12 or 15 cm).
The image is mounted on a Dibond 3 mm at the back of the Passe-Partout on the bottom of the Santorini showcase frame.
The sides and bottom are white. This gives the image in this showcase frame extra light. 
Everything is dust-free behind anti-reflective Artglass 2 mm - UV resistance 70%
At the back we have mounted an intelligent hanging system that, in combination with a wall batten, allows you to hang your Santorini showcase frame flush to the wall.
All you have to do is place the batten horizontally on the wall. Drill holes have already been provided.
After hanging, you can still move the Santorini showcase frame to the left or right without having to do any additional work.
Dimensions: Min. - 30 x 30 cm  -  Max. - 100 x 80 cm.

Black RAL 9005

Anthracite RAL 7016

White RAL 9016

Ayous Natural
Choice of Various Passe-Partouts
During your Online order you can select the width (4, 6, 9, 12 or 15 cm) and color of your floating Passe-Partout.
At the same time, we produce the same wide white edge around your image so that no details of your image become invisible.
As a result, your image fits perfectly within your floating Passe-Partout.
You can select the colors of your Passe-Partout Online. A simulation image will be shown to you each time.
The accuracy of the suggested colors depends on your screen and its color calibration.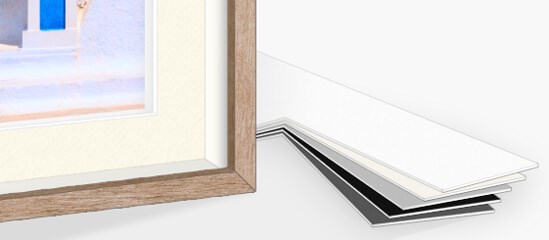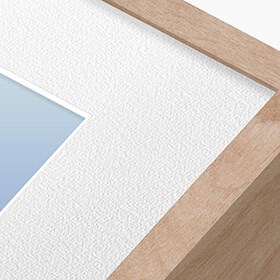 Very White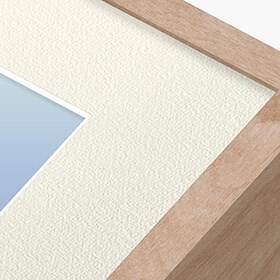 White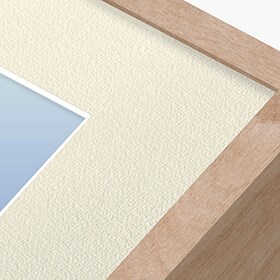 Ivory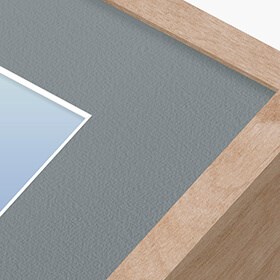 Bar Harbour Gray
Photo Grey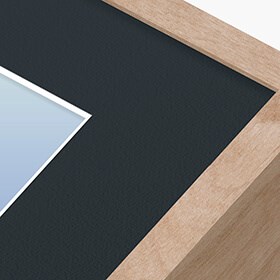 Raven Black
Choice between 10 different Papers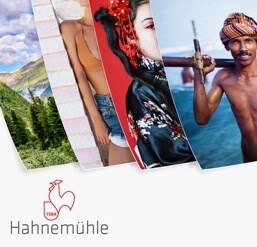 Hahnemühle Fine Art 
 ISO 9706
Torchon


Cloudy watercolor, Strong texture

William Turner 


Mould-made watercolor paper, 100% Cotton, Strong texture

Bamboo


90% Bamboo 10% Cotton, Light texture

Photo Rag 308 g


Velvety, Subtle texture, 100% Cotton

Ultra Smooth
Smooth
Velvet Surface
100 % Cotton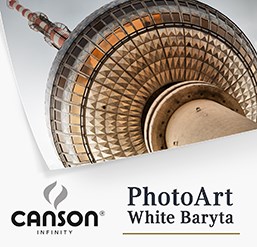 Canson Fine Art 
 ISO 9706
Platine Fibre Rag
Baryté type
Light texture
100% Cotton
Rag Photographique
Velvety
Matt
100% Cotton
--------------------------------
PhotoArt White Baryta
 ISO 9706
White Baryta
Contains Calcium Carbonate
Fingerprint Resistant
100% Photo Paper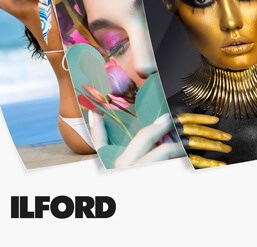 Ilford Photo Papers
Photo Satin
Satin surface
Photo Glossy
Glossy surface
Crystal Gloss
Glossy, metallic surface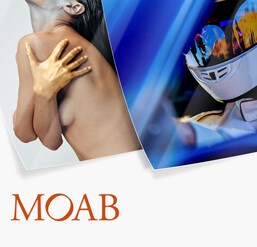 Moab Slickrock Metallic
Metallic Pearl


Pearly, Dynamic iridescent colors

Metallic Silver


Silver metallic, Kinechromatic effect
Invisible and Integrated Suspension System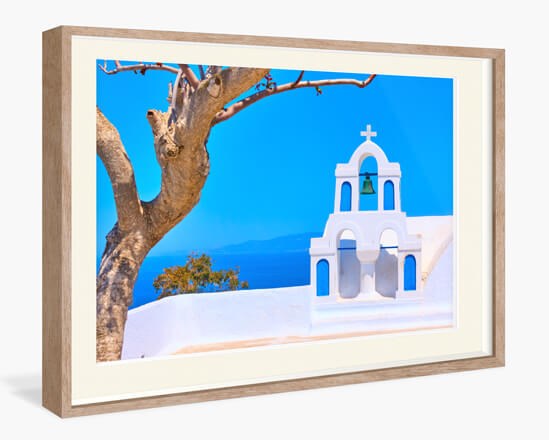 In a Santorini showcase frame, the image is placed behind a Passe-Partout. White edges, the same size as the Passe-Partout, are added to the image. You can define the dimensions and color (5, 8 or 10 mm) of the Passe-Partout online. The image is mounted on the very background of the showcase frame.
The white sides and background add brightness to the whole object.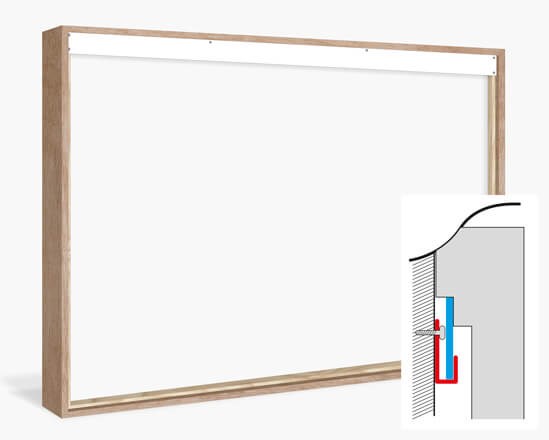 Over the entire upper length, a piece of Dibond is countersunk-screwed into three profiles so that the weight is distributed over 75% of the frame. The specially designed wall batten (red) ensures that your showcase frame hangs flat and parallel to the wall.

  Visualisation
Those images are interactive with 360° technology.
Click on the image and drag left or right, or scroll your mouse wheel to enjoy the 360° turn arround.
Wooden Frame with Glass Santorini 22 x 30 mm
Some examples of size comparisons
AuthenticPhoto is certified by Hahnemühle, Canson, Ilford, ChromaLuxe and Epson Digigraphie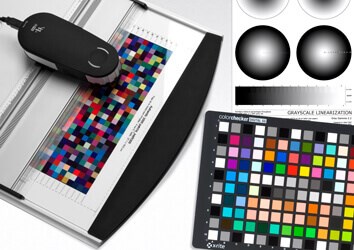 Testprints & Softproof
Testprint in A4 format (full image).
1:1 scale test (± 30 x 50 cm).
Softproof by email.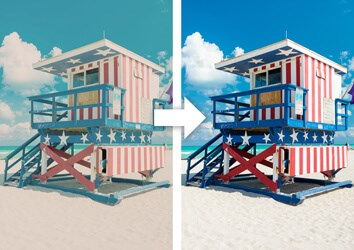 Optimization
Adaptation, retouching and correction of your image. Optimization of the image according to the chosen product.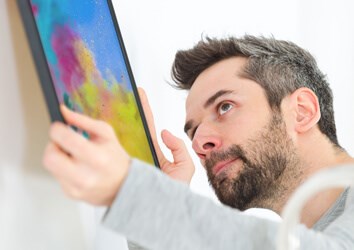 Placement
Organization of the hanging of your images after production and delivery.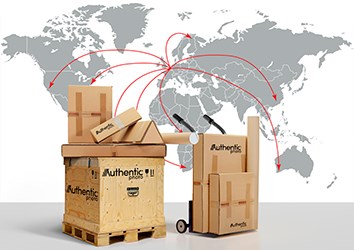 Shipping & Delivery
Custom packaging depending on the delivery method. The goods are guaranteed by AuthenticPhoto if we take care of the shipping.
Showroom
Rue Saint-Bernard 9
1060 Brussels — Belgium
Opening Hours
Monday-Thursday: 09-17h
Friday: 09-16h
Online: 24/7
Payment Methods