Special Shapes
In addition to the usual rectangles and squares, AuthenticPhoto offers 4 Special Shapes that can be selected online:
Circle, Hexagon, Octagon or Dodecagon.
Special geometric design: add an optical design element to your images.
Ideally suited for abstract images and portraits, color and black and white.
By mixing multiple images, shapes and sizes you create a personal wall decoration.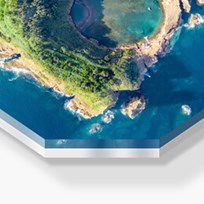 Diasec "À La Carte"
Diasec TruLife®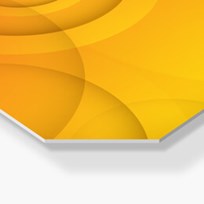 ChromaLuxe
Glossy, Satin or
Brushed Aluminium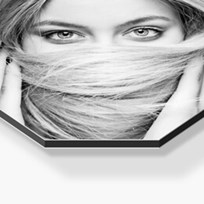 Direct Print on Alu-Dibond
White or Brushed Aluminium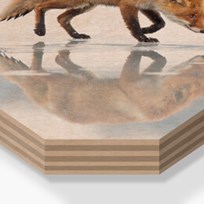 Ecological Wood
With/Without White Layer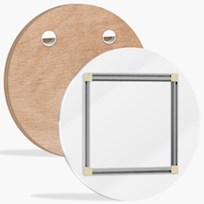 Professional Suspension
Adapted to your product

Circle
Round images without corners or edges, which gives your images extra visual support.
Hexagon (6-sided)
The honeycomb structure as a visual highlight. In group, the bevels can form a connecting line.
Octagon (8-sided)
This converts your image into a
traffic-stop-sign form and thus attracts so much attention that new visual creative solutions can be presented.
Dodecagon (12-sided)
Let your image shine in a diamond shape. The Dodecagon can be perfectly combined with the other shapes to form a composed visual:
Circle, Hexagon and Octagon.
Diasec "À La Carte" & Diasec TruLife®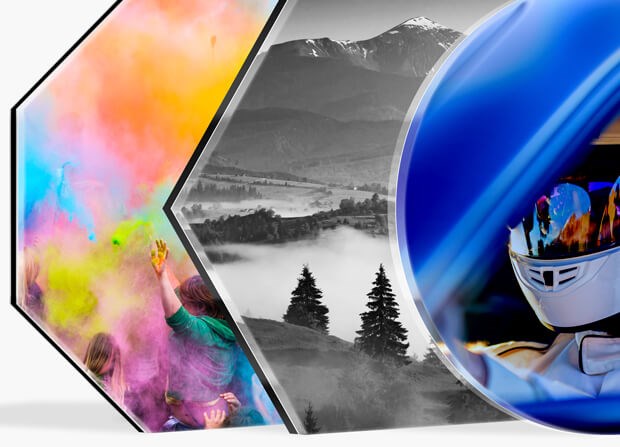 Diasec "À La Carte" allows you to compose your own Diasec.
The Special Shapes are available in Glossy and Satin.
They can be combined with 5 different paper types.

Diasec TruLife® is a glossy Diasec produced with a special non-reflective acrylic glass. It blocks up to 99% of UV rays, has an anti-static dust repellent and a scratch-proof durable coating.

Both Diasec "À La Carte" and Diasec TruLife® are shapable in fixed sizes between 30 x 30 and 150 x 150 cm in the following versions:
• Plexi/Plexi 3+3 mm
• Plexi/Black Back, with a black Plexi on the back.
ChromaLuxe is a contemporary modern production technique that allows the images to have a high color saturation and is therefore recommended for color-intensive images.
ChromaLuxe offers a kind of metallic surface and is colorfast for more than 65 years.
ChromaLuxe is resistant to large temperature differences as well as sunlight, hail and rain. ChromaLuxe is therefore weatherproof and thus extremely suitable for outdoor use.
Anti-vandalism: ChromaLuxe is to a certain extent scratch-resistant and cleanable from graffiti.
ChromaLuxe is available in Glossy, Satin or Brushed Aluminium.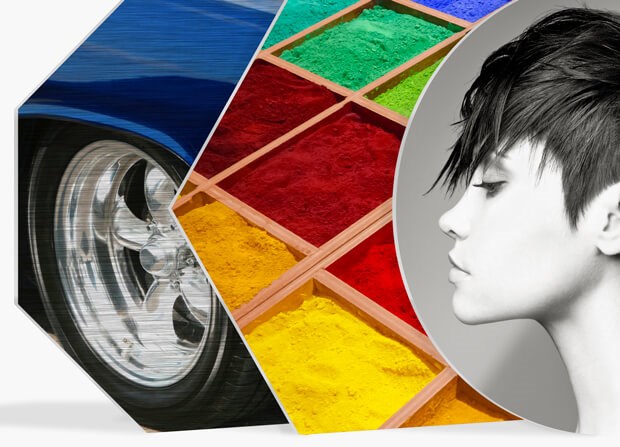 Direct print on Alu-Dibond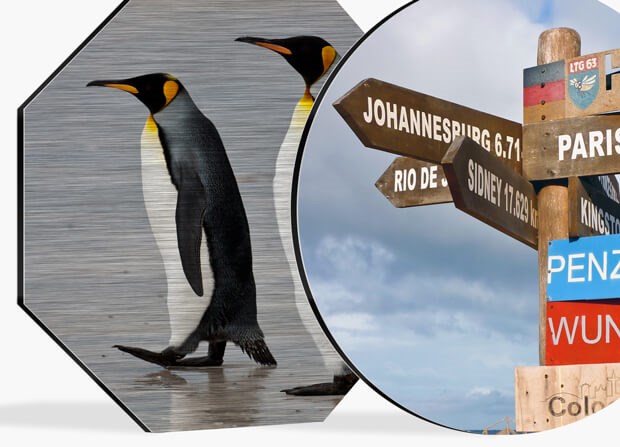 Alu-Dibond is printed with ecological inks, Greenguard Gold Certified, and cured with UV LED light and have a matt appearance.
Because of the curing, the inks are scratch-, moisture- and weather-resistant.
Alu-Dibond consists of two white lacquered aluminium layers with a PET layer in between. This keeps the Alu-Dibond extremely flat.
You can chose between a White or Brushed Aluminium surface.
Brushed Aluminum Alu-Dibond has a silvery effect with structured stripes, which is especially noticeable in the unprinted sections.
Direct print on Albasia Falcata Ecological Wood in a photographic quality using ecological Greenguard Gold certified inks cured with UV LED light.
This is an unique and ecological natural product.
Due to the curing, the inks are scratch-, moisture- and weather-resistant.
Ecological wood is printed directly by using 2 methods:
1st method: First a white ink is laid on top of the wood then the image is placed on top. This way of printing means the wood structure is barely visible through the image.
2nd method: The image is printed directly on the wood so that the wood structure remains visible through the light parts of the image.
Albasia Falcata wood is FLEGT (Forest Law Enforcement Governance & Trade - EU) certified, which means that the wood comes from well-managed forests and the harvested wood is replanted and ecologically managed in accordance with nature, its environment and local society.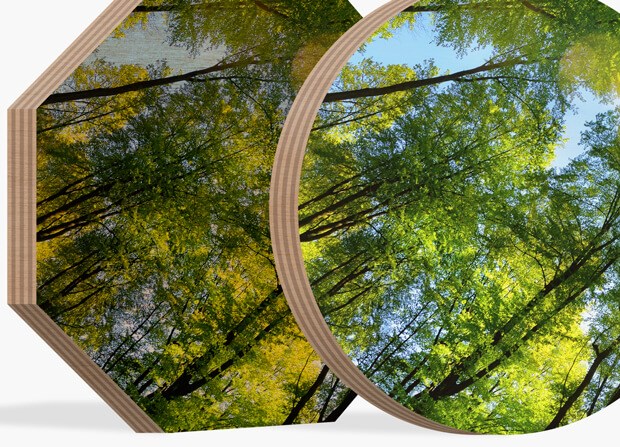 Adapted Suspension Systems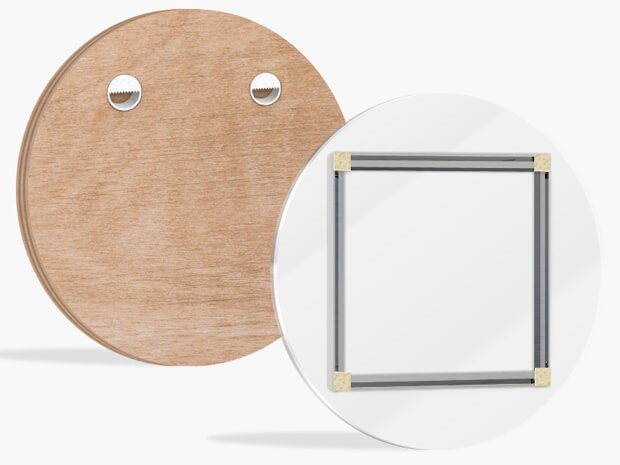 The different shapes are provided with adapted suspension systems.

Aluminium Hanging Frames
Adapted Aluminium hanging system on the back, invisible from the front. Simple and safe to use.
These are used with Diasec, ChromaLuxe and UV Direct Prints on Alu-Dibond.

A wall batten for hanging is provided automatically.
Hanging System milled in the wood
Plastic suspension nipples are incorporated into the back of the wood.
This hanging system is fitted with barbs to prevent it from coming loose.

Two pieces are placed, one on each side at the top of your image.
Special Shapes are available in the following fixed sizes
30 x 30 cm
40 x 40 cm
50 x 50 cm
60 x 60 cm
70 x 70 cm
80 x 80 cm
90 x 90 cm
100 x 100 x cm
110 x 110 cm
120 x 120 cm
130 x 130 cm*
140 x 140 cm*
150 x 150 cm*

*Diasec
Alu-Dibond only
Some examples of size comparisons
AuthenticPhoto is certified by Hahnemühle, Canson, Ilford, ChromaLuxe and Epson Digigraphie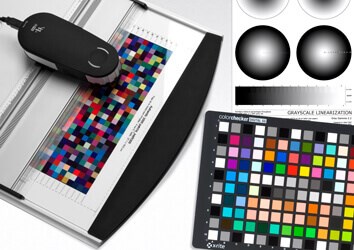 Testprints & Softproof
Testprint in A4 format (full image).
1:1 scale test (± 30 x 50 cm).
Softproof by email.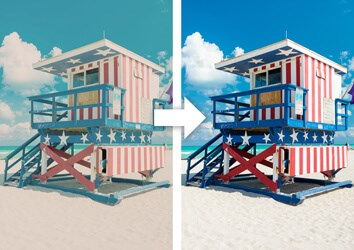 Optimization
Adaptation, retouching and correction of your image. Optimization of the image according to the chosen product.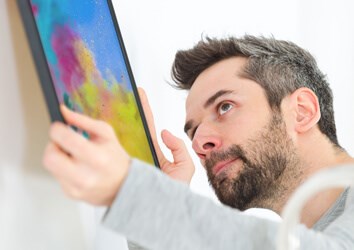 Placement
Organization of the hanging of your images after production and delivery.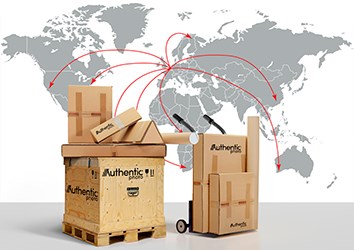 Shipping & Delivery
Custom packaging depending on the delivery method. The goods are guaranteed by AuthenticPhoto if we take care of the shipping.
Showroom
Rue Saint-Bernard 9
1060 Brussels — Belgium
Opening Hours
Monday-Thursday: 09-17h
Friday: 09-16h
Online: 24/7
Payment Methods