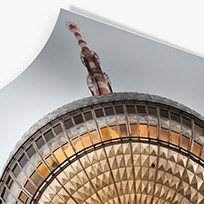 Fine-Art Photo Paper

 ISO 9706
Lightfastness >200 years
Processable in Diasec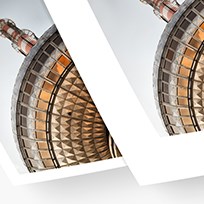 Adding White Borders
Addable Online
Up to 15 cm wide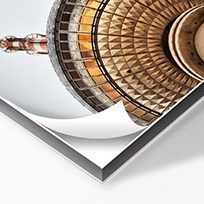 Mounting on Alu-Dibond
Satin Protection Film
Invisible suspension
Up to 150 x 300 cm
Glass Frames
Anti-Reflective Artglass
In wood
Different colors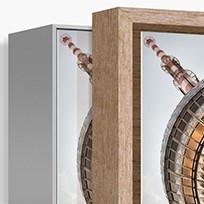 Floater Frames
Wood & Aluminum
Different Colors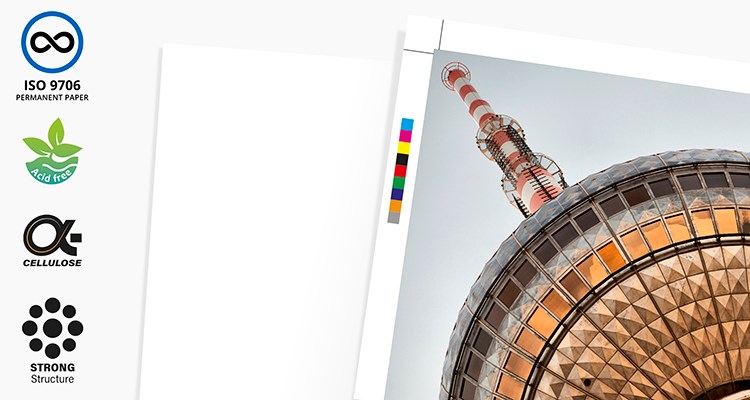 PhotoArt White Baryta
Appearance : Slightly Shiny and Smooth Surface
Base : 100% Paper
Weight/m² : 310 g
ISO Museum : ISO 9706
Lightfastness : More than 200 years
Contains: Calcium Carbonate
Acid: No Acids
Optical Whiteners: No Optical Whiteners
CIE Whiteness: 99.30 %
Maximum Size: 150 x 300 cm
Adding White Borders Online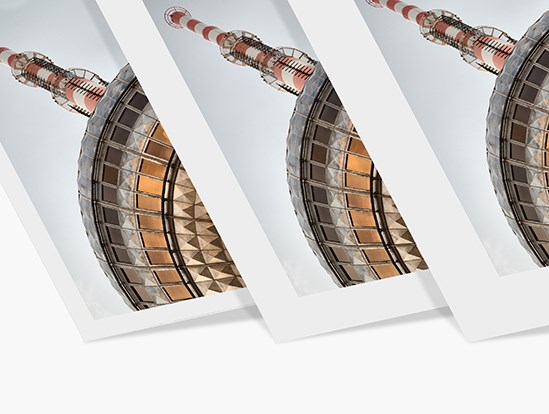 You can add white borders to your picture during the Online Order. You can choose from the following widths: 2 - 3 - 5 - 8 - 10 - 12 and 15 cm.
The white border is added to your image size. So nothing of your original image will be cropped. No white border can be added to the maximum dimensions. (max. 150 cm width)
Mounting on Alu-Dibond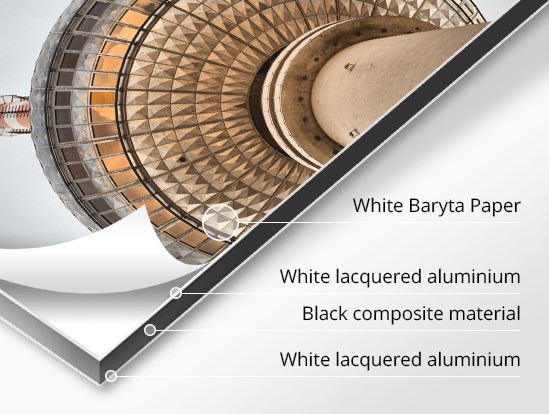 Alu-Dibond consists of two white lacquered aluminum layers with a plastic core in between. As a result, an Alu-Dibond remains extremely flat.
The white lacquered aluminum layers are optimally suited for mounting images.
Our standard Alu-Dibond has a thickness of 3 mm.
We can protect some papers extra with a protective film.
We recommend a Satin Protective Film. (Up to 150 cm width)
It is of a high optical quality and protects the optical density of color pigments.
It extends the color fastness through a built-in UV-Block and protected against light scratches.
It significantly reduces the touch sensitivity of fine art papers.
But a protective film also cancels out the unique visual aspect of the
Fine-Art and Special Photo Papers.
We can also protect these with an invisible varnish.


We also mount them in a glass frame with non-reflective museum glass.

Ready for Hanging and Immediate Use
Depending on the product, you can - during your order - choose between a Professional or a Simple Hanging System.
Depending on the dimensions and weight, the online system will propose the most obvious solutions:
Professional Hanging Systems :
Are the Hidden Aluminum Hanging Frames with reinforced corners, as shown here on the right.
Simple Hanging Systems :
Spacers - Hanging Hooks - Velcro Systems etc....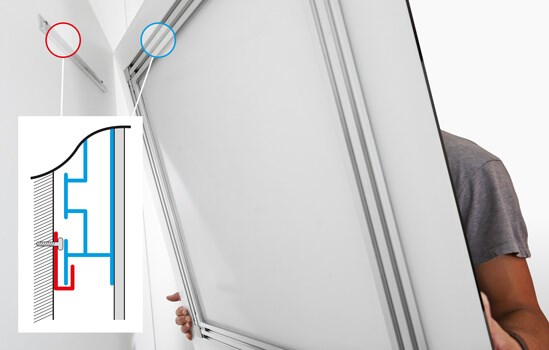 Aluminum Hanging System 10/45 with wall batten (in red)
A Variety of Wooden or Aluminium Floater Frames.
Our Fino Art-Box in Aluminum with an extra fine 1.2 mm front.
Available in 3 different thicknesses : 12 mm - 25 mm - 50 mm.
Each in 4 colours: White matt (RAL 9016) - Black matt (RAL 9005) - Gray (RAL 9006) Anthracite matt (Ral 7016). The Fino Art-Box 12 mm is also available in Alu Silver Anodized. They are all suitable for containing images in Chromaluxe, Fine-Art Prints on Alu-Dibond and Diasec.
Our Wooden Floater Frames with different wide fronts:
Fino Art-Box : 4 x 30 mm - Biarritz: 15 x 30 mm - Marbella: 30 x 30 mm - Knokke: 40 x 60 mm. Each in four colours: Natural - White matt (RAL 9016) - Black matt (Ral 9005) - Anthracite matt (Ral 7016).
They are all suitable for containing images in Chromaluxe, Fine-Art Prints on Alu-Dibond and Diasec.
Gallery Glass Frames in Wood with Non-Reflective Museum Glass

Our Wooden Glass Frames with Non-Reflective Museum Glass can hold all our types of photo papers and display them perfectly protected.
In Four colors with Satin Varnish:
White Satin (RAL 9016) - Black Satin (Ral 9005) - Anthracite Satin (Ral 7016) - Natural
Depth 30 mm, Front 15 and 30 mm -  Min: 30 x 30 cm - Max: 120 x 160 cm
Presentations:
San Remo: Floating photo with distance from the edge.
Camargue: Image at the back with White border.
Barcelona: 100% Image at the back.
Santorini: Image with floating Passe-Partout
Special: Amalfi: 30 mm deep, Wooden bottom and front 15 mm with floating photo (Type San Remo)
A multitude of Floater Frames in Aluminium and Wood and Wooden Glass Frames

Some examples of size comparisons
AuthenticPhoto is certified by Hahnemühle, Canson, Ilford, ChromaLuxe and Epson Digigraphie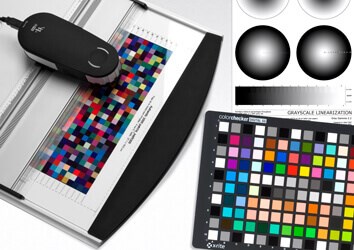 Testprints & Softproof
Testprint in A4 format (full image).
1:1 scale test (± 30 x 50 cm).
Softproof by email.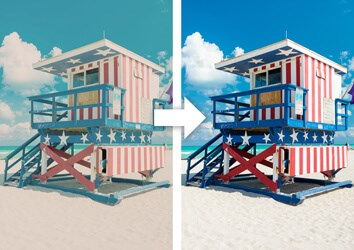 Optimization
Adaptation, retouching and correction of your image. Optimization of the image according to the chosen product.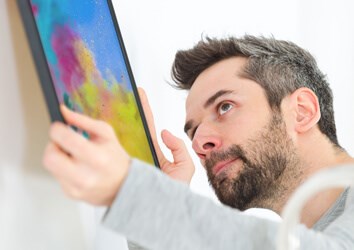 Placement
Organization of the hanging of your images after production and delivery.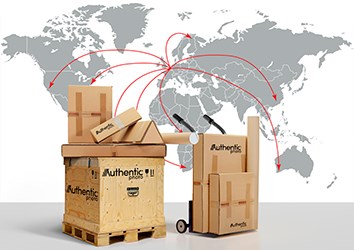 Shipping & Delivery
Custom packaging depending on the delivery method. The goods are guaranteed by AuthenticPhoto if we take care of the shipping.
Showroom
Rue Saint-Bernard 9
1060 Brussels — Belgium
Opening Hours
Monday-Thursday: 09-17h
Friday: 09-16h
Online: 24/7
Payment Methods