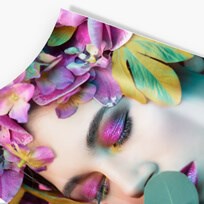 Professional Photo Paper
Ilford Photo Gloss
Ilford Photo Satin
Ilford Crystal Gloss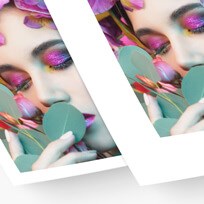 White Border Addition
Online Configurable
Up to 12 cm wide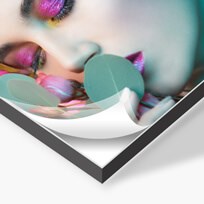 Mounting on Dibond
Optional protective film
Invisible suspension
Up to 150 x 300 cm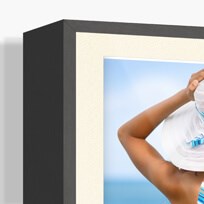 Showcase Frame
Anti-reflective Artglass
In wood
Different colors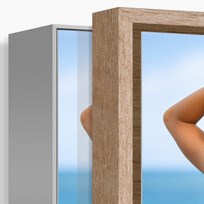 Floater Frames
Wood & Aluminum
Different colors
3 High Quality Photo Papers, printed with Epson Ultrachrome HDR inks

RC Coated, FSC certified
290 g
Adding White Edges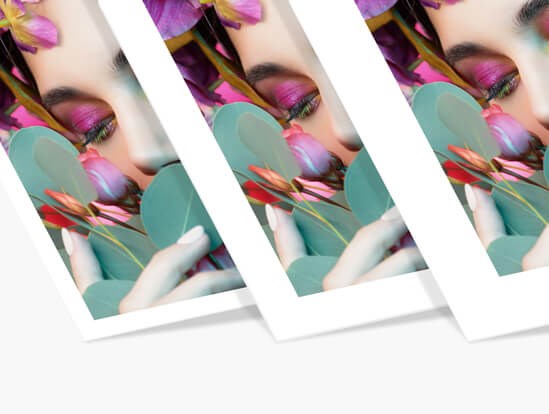 You can add a white border to your image during the Online ordering process.
The white border will be added to your image size. Nothing will be cut away from your original image.
By adding a white border, your print can also be framed with a "passe-partout" without cutting off details of the image. It can be used in combination with a floater frame.

You can choose from the following widths: 2, 3, 5, 8, 10, 12 et 15 cm.
Please note that adding a border cannot exceed the maximum print size (150 x 300 cm).
Mounting on Dibond
The Dibond consists of two white lacquered aluminum plates between which is a layer of polyethylene.
This composition ensures perfect flatness.

The white lacquered aluminum layer of Dibond is ideal for mounting.

The standard thickness of our Dibond is 3 mm.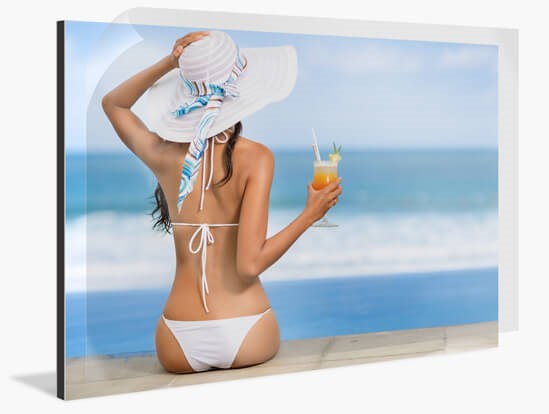 Some papers can be protected by a satin protective film up to 150 cm wide.

However, this protective film can reduce the special appearance of special Fine-Art and photographic papers.
In these cases, the use of an invisible varnish is preferred.

They can also be mounted in a Showcase Frame behind an anti-reflective Artglass.
Depending on the product, you can - during your order - choose between a Professional or a Simple Hanging System.
Depending on the dimensions and weight, the online system will propose the most obvious solutions:
Professional Hanging Systems :
Are the Hidden Aluminum Hanging Frames with reinforced corners, as shown here on the right.
Simple Hanging Systems :
Spacers - Hanging Hooks - Velcro Systems etc....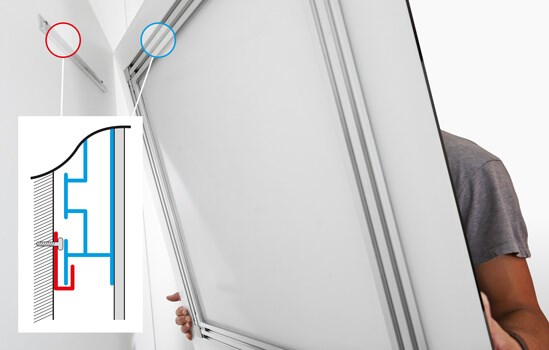 Aluminum Suspension System 10/45 with wall batten (in red)
Fino Art-Box and Wooden or Aluminum Floater Frames

Our Fino Art-Box in Aluminium with an extra fine front of 1.2 mm.
Available in 3 different thicknesses: 12 mm, 25 mm and 50 mm.
Each in 4 colors: Aluminium Silver Anodised, White matt (RAL 9016), Black matt (RAL 9005) and Anthracite matt (RAL 7016).
All suitable to contain images in ChromaLuxe, Dibond and Diasec.
Our Wooden Floater Frames with different front widths:
Fino Art-Box: 4 x 30 mm, Biarritz: 15 x 30 mm,
Marbella: 30 x 30 mm, Knokke: 60 x 40 mm.
Each in four colors: Maple Natural, White matt (RAL 9016), Black matt (RAL 9005) and  Anthracite grey (RAL 7016)
All suitable to contain images in ChromaLuxe, Dibond and Diasec.
Wooden Showcase Frames with Anti-reflective Artglass

Our wooden showcase frames with Anti-Reflective Artglass can contain all our types of photo papers and display them perfectly protected.
In 4 colors with Satin Varnish:
White Satin (RAL 9016), Black Satin (RAL 9005), Anthracite Satin (RAL 7016) and Maple Natural.
Front 15 mm – Depth 30 mm
Min.: 30 x 30 cm – Max.: 120 x 160 cm
Presentations:
San Remo: Floating photo with distance from the edge.
Camargue: Image at the back with White border.
Barcelona: 100% Image at the back.
Santorini: Image with floating Passe-Partout
Special:
Amalfi: 30 mm deep, Wooden bottom and front 15 mm with floating photo (Type San Remo)
A multitude of Floater Frames in Aluminium and Wood

Some examples of size comparisons